On Thursday 14th April SARA attended the Royal Windsor Horse Show and was formally handed the keys to the new Discovery Sport by Land Rovers new ambassador, the TV presenter Adam Henson.
"Land Rover UK announces TV presenter and well known farmer, Adam Henson as its latest Ambassador. Henson who has become synonymous with the countryside and runs the Cotswold Farm Park in Gloucestershire is a perfect fit with Land Rover and complements its support of rural communities.
At the Royal Windsor Horse Show today, Henson's first appearance for Land Rover saw him formally hand over a new Discovery Sport to The Prince's Countryside Fund Land Rover Bursary beneficiary SARA. SARA will use the vehicle for their vital search and rescue operations on the Severn Estuary. The Land Rover Bursary, part of a three year partnership with The Prince's Countryside Fund, serves to award innovative projects helping to revitalise and preserve British countryside communities and rural traditions. SARA is one of five bursary winners who will benefit from the use of a new Discovery Sport for a year.
Commenting on his ambassadorial role, Henson said, "I am really excited to be associated with Land Rover. Farming and agriculture has been my life's work and if ever there is a vehicle for the countryside, it has to be a Land Rover.
"I've got great admiration for the life-saving work that the team at SARA do and it's a real privilege to present them with the new Discovery Sport which will give them enhanced capability to continue their vital operations."
Land Rover UK continued its 2015 Defender Celebrations with a parade drive through the Windsor Great Park. Vehicles included a Series I, IIa, III, Defender 90 and an exposed aluminium Defender 90 which was built to commemorate 50 years of Land Rover in 1998. The drive took in iconic scenery including the Golden Jubilee Statue, the Village Post Office and the Copper Horse."
Mervyn Fleming Area Commander for SARA West said "We are thrilled to receive this support from the Prince's Countryside Fund and Land Rover. The vehicle will see considerable use with our Mountain Rescue and Land Search teams who are frequently called upon to assist Police forces with searching for lost or missing vulnerable people in rural areas."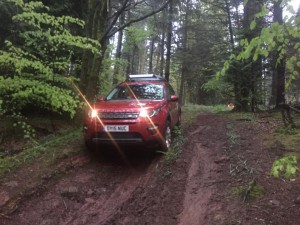 The very night following the presentation at Windsor the Disco Sport was in action at Chepstow Park wood to familiarise designated drivers with its computerised off-road capabilities.
The bright red vehicle will be a highlight at the SARA Lifeboat & Rescue Station's Public Open Day at Beachley, Chepstow on Bank Holiday Sunday 24th May.
In 2014 SARA's teams were called to over 150 emergencies. SARA is also the Lifeboat service to the Severn Estuary with commitment to the National Flood Rescue Plans for England and Wales."