The Severn Area rescue Association (SARA) has established a Rescue Equipment Hub within the Newport city area. The specially modified twenty-foot shipping container houses a selection of specialist equipment for Lifeboat, Swift Water or Flood emergencies and incidents on the Rivers Usk, Ebbw and Afon Llwyd.
The D-Class lifeboat "SARA-14", a customised rescue Landrover and other specialist equipment such as ropes, technical hardware, stretchers, casualty recovery devices, protective clothing, scene lighting etc. is housed in the Dark Blue container which was kindly donated by General Dynamics UK Ltd who have an electronics division based at Oakdale Business Park, Blackwood.
During the Winter and Spring the container underwent considerable modifications and customisation, mostly carried out by volu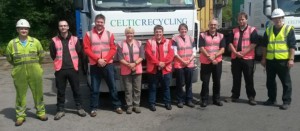 nteers from SARA's Chepstow station with help from a community team from Siemens Water Technologies, Portskewett . It is now installed within the secure grounds of Celtic Recycling Ltd., a specialist electrical plant recycling and recovery facility. The site is manned 24 hours a day providing security and rapid access for rescue crew responding to emergencies within the Newport/Gwent area.
SARA's Newport Project Manager, Richard Dainty from Risca, said: "The companies have offered considerable support for this much needed project which is now operational. We would particularly like to thank General Dynamics UK ltd and Celtic Recycling Ltd. (Newport) for their professional advice, support and time given to SARA. All contributing sponsors will be keeping a close watch on how the project progresses."

Mervyn Fleming, SARA's Western Region Commander, from High Cross, said: "SARA is tasked to maritime emergencies on the Severn Estuary from Newport to Gloucester and its tributary rivers by H.M. Coastguard. SARA also assists Police, Ambulance, Fire and Rescue Services across ten county boroughs in England and Wales."
For the past ten years SARA crews have worked alongside and supported uniformed colleagues from South Wales Fire and Rescue Service, frequently working closely with the specialist rescue teams based at Newport's Malpas Rescue Station. The 'Newport Rescue Kit Hub' will greatly speed up responses to life-threatening incidents on the River Usk as well as strengthening SARA's ability to respond to flooding incidents in the city and local communities in the low-lying coastal areas between Caldicot and St Mellons." He said, " The 'Hub' also houses emergency lifejackets, torches, survival blankets for distribution to trapped victims in the first hours of a major flooding incident"
During 2013 SARA's local teams were called to action on over fifty occasions.
Newport's lifeboats receive no funding from the RNLI and are supported almost entirely by public donations and community groups: should you wish to make a donation towards Newport's lifeboats, please call General Enquiries on 0844 846 0226.