Newport
Our Newport set up was established in 2013 when General Dynamics UK Limited kindly donated a container enabling the team to store the original SARA lifeboat 14.
Following the container donation, Celtic Recycling opened their arms to our crew and welcomed the container/lifeboat and response vehicle to be stored at their secure facility based near the City Centre.
This reduced response times to attend incidents and also ensured the equipment was safe when not in use.
In 2014, the team was offered the opportunity to move into Malpas Fire and Rescue station by South Wales Fire & Rescue Service.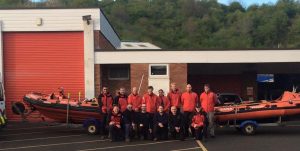 This would see the team build strong working relationships with our partner agencies and also provided us the much needed room to expand our rescue capability.
In early 2015, we commenced a fundraising campaign to purchase a bespoke Rescue boat that would be capable of operating at low water within the River Usk and also be effective when working in remote areas or whilst being deployed to support national flood response.
The funds were generated and SARA rescue boat 19 was purchased.
In late 2015 the crew put together a project that would see the replacement of our SARA Lifeboat 14 (Avon D-Class)
Subsequently the Association received a substantial bequest from the estate of the late Ms Maureen Easton, who lived in the West Midlands and holidayed in our area.
The donation was used to purchase a  custom built, state-of the-art Lifeboat named SARA Lifeboat 14 'The Maureen Easton'.  The generosity of the donation also presented an opportunity to purchase a new vehicle and provide funds to cover general running costs.
The station at Malpas is also home to one of our Swift water Rescue Teams that specialise in technical water & flood rescue.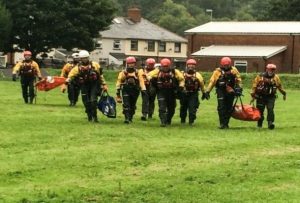 Newport is currently recruiting new members!
We are currently recruiting operational members to join the team! No experience is needed as full training will be provided.
We have an immediate need for support members, who help with a large number of tasks related to our work
. This is open to anyone interested in volunteering in a Search and Rescue environment, in a charity support capacity or in fundraising activities. If you are interested in getting involved, and would like to help this local good cause, please contact us directly –
recritment.newport{at}sara-rescue.org.uk
Rescue Boats & Mobile Units @ Newport
SARA Lifeboat 14 "The Maureen Easton"

Call sign – SARA Lifeboat 14
Length – 4.8m
Power – 50HP petrol outboard engine
Speed – Approx 30 knots (34 MPH)
Duration before refuel – 4 hours
Fuel carried – 50 ltrs
Construction – Glass reinforced plastic with Kevlar reinforced keel shoe, CSPE Synthetic rubber
Learn more about SARA 14″The Maureen Easton"

Call sign – SARA Rescue 19
Length – 4.35m
Power – 30HP petrol outboard engine
Speed – Approx 25 knots (28 MPH)
Duration before refuel – 3 hours
Fuel carried – 25 ltrs
Construction –Polyethylene (100% recyclable) UV stabilized, double skin hull.
Learn more about SARA Rescue 19

Type – Water Rescue rapid deployment sled
Length – 6.3m
Used for – Ice, Mud, weir search, transporting/evacuating persons.
Max Persons– 6
Construction –Reinforced PVC.

Call sign- Mobile 1
Type – Land Rover Discovery
Used for – Towing the boats, transporting crew and equipment.
Ability – 4×4 with snorkel & winch.
Equipment carried – everything that the need teams!
Learn more about MRU 1
Transferred from Beachley to Newport as of 2015
Contact Newport
Email: recruitment.Newport@sara-rescue.org.uk
 for live (where possible) updates