Posted in
News
,
Tewkesbury
on October 17th, 2013 by
Tom Keeling
–
Be the first to comment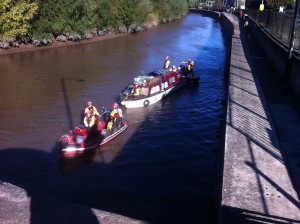 Severn Area Rescue Association (SARA) are advising all boaters to ensure they carry out thorough maintenance following three emergency call outs to the same boat in as many days. Both SARA and Gloucestershire Fire and Rescue Service (GFRS) sent water rescue teams on Tuesday and Thursday last week to a craft suffering loss of engines due to leaking fuel, on the River Severn in Gloucestershire. The craft was found drifting downstream towards Gloucester with the lone occupant stranded aboard.
Further temporary repairs made by the owner failed on two separate occasions, leaving SARA and GFRS no choice but to tow the craft off the river to the safety of Gloucester Docks on Thursday morning.
Tom Keeling, Station Manager at SARA Tewkesbury said "we responded twice at our highest level of response given that the craft was out of control, the owner was alone and not well equipped. The craft had lost engines following a diesel fuel leak, which also presented an environmental and fire risk. As a result, our colleagues at GFRS not only mobilised water rescue teams, but support units and environmental protection teams. This was a wholly avoidable situation, and while we are proud to have carried out successful rescues, effective maintenance could have prevented this".
Graham Watts is Manager of the Boat Safety Scheme, a public safety initiative that requires boats to undergo four-yearly Mot-style inspection with a view to preventing fire and explosion. He advised owners to keep a routine eye on all their boat's systems and never let any problems ride. A small glitch can so easily develop into serious issues without an owner realising.
"Not maintaining fuel systems and ignoring simple faults like fuel leaks can lead to breakdowns or fires, both of which in some circumstances can place more than the boat crew at risk" More information about boat safety can be found at www.boatsafetyscheme.com. Graham Watts, Manager of the Boat Safety Scheme
SARA signed a strategic alliance with GFRS in 2011 that sees the Tewkesbury branch based alongside GFRS at Gloucestershire Water Rescue Centre at Tewkesbury Fire Station. This recent incident highlights the importance of close working and demonstrates the positive outcomes possible.