Posted in
News
,
Wyre Forest
on February 15th, 2012 by
Elspeth Hardie
–
Be the first to comment
Severn Area Rescue Association (SARA) will be making a splash at Wyre Forest Glades Leisure Centre, in , when it takes to the pool for emergency training.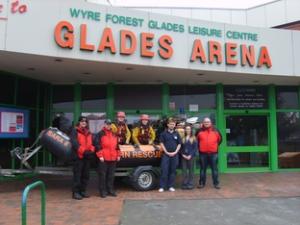 The sessions will go ahead on Thursday, February 16 and 23, to ensure all crew members maintain their skills and are fully prepared for any crucial rescue missions they may face.
Water assessments for new crew members and the existing operational team will be taking place, as well as the leisure centre's pool acting as a controlled environment for spinal board training.
SARA is tasked by the coastguard, fire, police and ambulance services across its operational area to provide search and rescue services 24/7, 365 days of the year.
The crew's operational area is not only the Severn Estuary, but includes the middle and lower sections of the Severn and the rivers Avon, Teme, Wye, Monnow, Ebbw, Bristol Avon and Usk. It also has rescue stations at Wyre Forest and Tewkesbury and lifeboat stations at Beachley and Sharpness.
A spokesman for SARA said: The crew are passionate about providing a professional rescue service to the local community, and whatever the circumstances will turn out if called today, tomorrow, next week, month or even next year. As well as every member of the SARA being a volunteer the association is entirely funded by public donations, so please show your support by visiting the website and contributing to such a worthy organisation.
For more information visit sara-rescue.org.uk.