Posted in
News
on February 14th, 2012 by
Elspeth Hardie
–
Be the first to comment
On Saturday 11th February at 18:51Hrs the Severn Area Rescue Association (SARA) was tasked by the Maritime Rescue Coordination Centre (MRCC) Swansea to stand-by the M.V.Seahawk, an 87 Metre cargo vessel which had an engine room fire.
SARA Lifeboat 1 was first on scene, ready to evacuate the 7 persons onboard. The vessel's crew successfully extinguished the fire and deployed an anchor.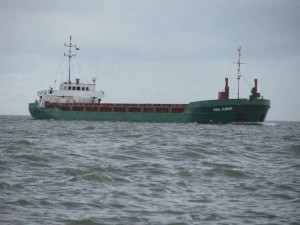 The SARA Lifeboat was joined by Portishead Inshore Lifeboat and Barry Dock RNLI All-Weather Lifeboat whilst the MRCC coordinated the lifeboat action.
Two tugs from Avonmouth Docks: "Thorngarth" and "Svitzer Ellerby" were deployed and successfully towed the ship into Avonmouth docks. There were no reported injuries and all the lifeboat teams were stood down by MRCC.
Mervyn Fleming, Chairman of the SARA Lifeboat & Rescue Station at Chepstow said, "This is an example of what lifeboats around the country train for. The crews from Beachley, Portishead, Avonmouth and Barry were all ahead of the game. Although it was dark and bitterly cold; it was a calm evening and thankfully no-one was injured."