Posted in
Fundraising
,
News
,
Tewkesbury
,
Wyre Forest
on March 26th, 2012 by
Robert Jervis
–
Be the first to comment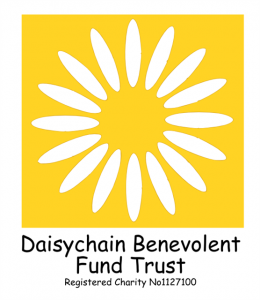 It is with grateful thanks and enthusiasm that SARA is pleased to announce we have been chosen by the Daisychain Benevolent Fund to be one of their main Charities during 2012-13.
The aim of the trust is the preservation of health and the relief of sickness in the community. It raises funds through fundraising activities and the Daisychain Benevolent Fund chain of shops. All the proceeds are distributed to its nominated charities. In addition, each shop actively promotes the charity that it supports within the community, by promoting events and increasing awareness of the needs of the charities.
Each year thousands of pounds are raised and this has helped them to donate in excess of three quarters of a million pounds to their nominated charities. Currently their nominated charities are; Macmillan Cancer Support, Children's Emergency Care at UHNS (Cheethams) and the Severn Area Rescue Association (SARA).
Throughout the year, SARA crew and supporters will be attending events organised by Daisychain, as well as volunteering in their shops at:
St Johns, Worcester
Barnards Green, Malvern
Evesham
and taking part in collections of donated items to support the retail outlets
Speaking about their nomination as a supported charity, Paul David Watkins (Deputy Executive Chairman, SARA) says:

"We are all really excited about DCBF deciding on supporting us – they are a great charity in their own right, and it is heart-warming to see that they see us as such a valuable resource to the communities we serve. This year will see us developing a strong link with DCBF, and our crews are looking forward to getting involved! Having been to a shop myself recently whilst on route back from a duty in Worcester, we can see this relationship will be great – we had only been there a minute, when we were carrying stock into the shop, laughing with the staff and talking to customers."
Wyre Forest Rescue Station and Tewkesbury Rescue Station are looking for the donation of items that can be sold by DCBF in its shops – either contact your local station to arrange delivery/collection or take directly to any DCBF shop, telling the staff "SARA sent you!"
The items they are always looking for include:
Clothing
Shoes
Accessories
Bric-a-brac
Books
CDs, DVDs, etc
And more!
Keep your eyes peeled on our news feed for details of when and where SARA crew will be appearing at DCBF shops and events!
For further information on Daisychain visit: daisychainbenevolentfund.co.uk