Posted in
Beachley
,
Fundraising
,
News
,
Sharpness
,
Tewkesbury
,
Wyre Forest
on January 26th, 2012 by
Robert Jervis
–
Be the first to comment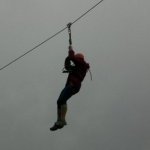 The longest ZipWire in the UK, Be the first to ride it!
Dare you take the 720m ZipWire challenge?
Challenge friends, colleagues or your boss!
Make it a team building event!
Help us to save lives in our region
Be the first to ride the UK's Longest Zip Wire
Win a trip on a SARA lifeboat
The National Diving & Activity Centre is promoting a Sponsored ZipWire fundraising event for SARA on Saturday/Sunday 14/15th April 2012 at the National Diving & Activity Centre, Chepstow.
Be the First to ride the ZipWire – The highest fundraiser on www.JustGiving.com (online & Mobile donations only) 2 weeks before the event will win the Golden Ticket!
Win a Trip on SARA1 – Every participant collecting £100 or more in sponsorship will be entered in a draw for a thrilling trip aboard a high speed rescue boat with the individual collecting the highest amount of sponsorship guaranteed a place.
This event is being promoted by The National Diving & Activity Centre for the purpose of raising funds for SARA. Registration Fee of £20 is required and a pledge to raise a minimum of £50 sponsorship for SARA is required (registration Fee can be recovered from sponsorship)
Entry forms and further information below: